The time i went for Malang Doeloe
at Jln.Ijen Besar, i didn't put up the pics of the eats i had there =) These are the food i don't see around or eat frequently.
p>
Lontong Sayuran
Serve with Kuah (gravy) Kare which is cooked with Santan on Vegetables, such as: potatos, bean sprouts, bamboo shoots, nangka, boil eggs, beancurd and Sambal.
Lontong is actually rice that is 'dihimpit' meaning compress to either cylindric form or diamond form like the ketupat. I don't like lontong or ketupat. It's too bland for my taste, because no matter what sauce you deep it in, when you start chewing you still can taste the blandness there. Baah! Now i now how i like my lontong… totally drench in gravy like this dish!
There was this stall full with people. Obviously when you see people crowding a restaurant you know they definitely serve nice food. That's the TauKehSou packing the food for us.
She makes really Kick-Ass NASI LIWET, although it's must first time trying but it is really good! That psychoticSeet had 3 take away!
So what is Nasi Liwet? It's really a sinful rice dish with lots of Santan to give you cholesterol.
Nasi Liwet… Nyamleng!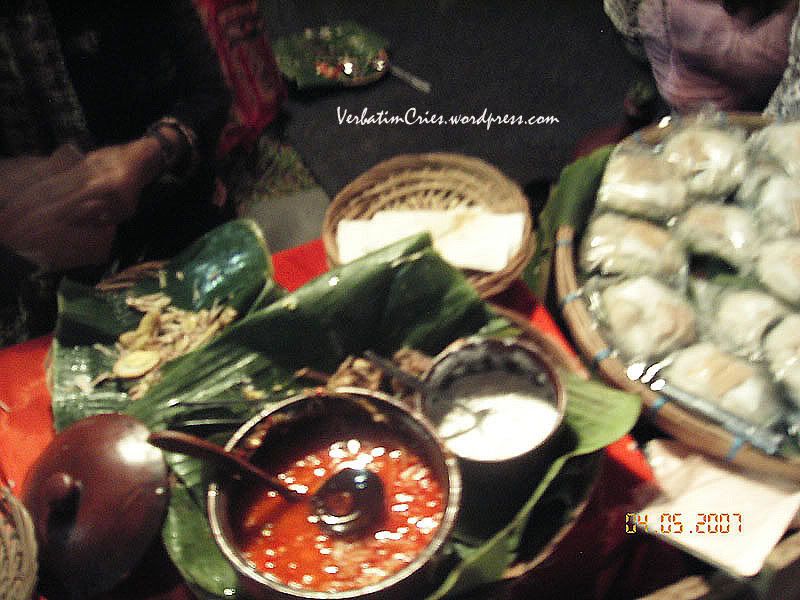 The Condiments
Nasi Liwet also known SEGO LIWET, is a traditional food from Solo- Jawa Tengah (central of Jawa).
Consist: Nasi Gurih Santan- Rice cooked in Santan
Ayam Kampung Rebus Bumbu- Boiled Marinated Kg. Chicken
Sayur Labu Siyem (manisah) Pedas
Santan Kelapa Kenthal (areh)
Contact: Bu Djadno, Bantaran Barat II No. 22, (tlp) 0341-492001 / 081803804621
The Labu Siyem is the red colour looking food, the white paste of glob smeared on the whole plate is actually Santan Kelapa Kenthal! They take the santan and boil it until it is thick! It does looks like Yoghurt than the Indian's like to put on their food, doesn't it?
Pulut Can't remember the full of it.
Consist: Pulut, Grounded Nuts, Sugar, and Dessicated Coconut.
It's ok, not so fond of it since it's rice and sweet food. Was trying it because i've never come across it. In the end my friends and i ate the Toppings and threw most of the rice away.
Bamboo light in front of the stall.