Malaysia's leading mobile phone are Hotlink (012/017), Celcom (019/013) and DiGi (016). In Indonesia the famous lines are Simpati, Mentari and IM3 (of Indosat), XL (bebas and jempol) and some newest such as Tiga3 and other lines cheaper for calling but you need a CDMA phone would be Fren, E-asia, one more i can't recall.
Well i saw Simpati were promoting their line in the middle of the road, where there's a mini round about. It is so traffic congesting causing for doing that and it's legal to do it here! At least back home you can see mobile line promoting at the side of the road shops like Bangsar.
the red clowns
stupid car blocking my photoshoot…
by the way that area is just near my place. Just imagine who will do that in Malaysia's weather? At least we put the mascot in shady place or better still malls.
Look at the maskot for Simpati… they look like red bozo clowns to me. So unattractive… i don't know the mascot's name, but if i were to name it will be Sympathy man which is exactly the same meaning as Simpati. DiGi's YCF is so much more cuter and funnier.
pic from thestar online news paper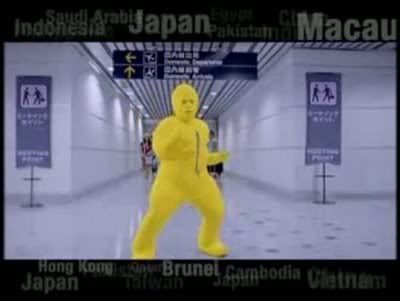 DiGi's YCF is going places
They have their own jiggle too which is the Boing-boing dance and their own theme song " i will follow him" by Little Peggy March based on the 1963 Billboard Hot 100 No.1 song.
The advertisings here are more outrageous than Malaysia. I remembered having a yumchar session earlier this year somewhere in ss15, some of us were watching a young girl about a few years older than i am was selling Hotlink goodies… cap, pen, t-shirts and stuff. Well one of the trio group of men who are old enough to be someone's daddy was disturbing the girl by giving her a hard time. Requesting to buy items that was not in the list. Making quite a scene. Give the girl some dignity will you? It's hard having a pretty face or body sometimes, as you get unwanted attentions from HamSap lou(s) like them. ASS HOLES! Thankfully the owner of the bistro came and diffuse the situation and ease the drunkard fool.
ok back to the other advertising live promotion i saw before this was during night time just beside my hostel. A big van was parked aside, there was a small stage-like where the DJ plays some clubbing music and the speakers placed, and a medium looking stalls selling cigarettes of of some funny local brand which i can't recall. To get everyone's attention they got 3 pretty looking girls clad in baby-t and hot pants with skin coloured leggings and hand cover which looks like tissue materials, dancing sexily in front of the road! Yet again, the road was congested! The opposite side of the road was parked by motorcycles with unbeknown thoughts going through their head of the scene in front of them. I wonder what is their opinion of this.
btw, here are some nice cute and funny DiGi's YCF in
… did you know there was one?